Mountain View Door Closer, Key & Lock Service, Inc.
Providing excellent service in the Bay Area for 60 years!
Services & Products
In the Shop
Locksmith
Rekeys: bring in your locks and save on the service call!
Call for pricing
Make keys for locks with lost keys
Lock repair (residential grade, commercial grade, mortise,
cylindrical, antique, automotive, safe locks)
Safe lock service, Combo changes
Automotive lock rekeys
Knife and scissors sharpening (no serrated knives)
Office furniture / file cabinet keys by code (large orders can
be faxed in ahead of time)
Safe openings
Door closer repair
Patio Door Lock repair / many parts in stock
Keys Made
Specialized in stocking all types of key blanks!
House keys
Car keys
Boat keys
Special equipment keys
Clock keys
Antique or "Skeleton" keys
Classic car keys
High security keys
High security car keys
Transponder keys
Office keys
Office furniture keys
Safe deposit keys
Steel keys
"Do Not Duplicate" key policy
We will not copy unless you bring in an authorization letter on letterhead. High security keys have additional restrictions – call for more information.
Shop jobs
Many jobs can be done same day, and some jobs will need to be left for a longer period of time.
CALL FIRST for an estimate on how long you can expect your job to take – tell our staff about anytime deadlines you have and we will do our best to meet your needs.
Retail sale items
Key rings, key chains, accessories
Most common styles and finishes of residential and
commercial grade locksets in stock (Schlage, Kwikset,
Weslock, Weiser, Baldwin, Sargent, Marks
Most less – common styles and finishes of locks available within 1 – 3 days
We have a large stock of parts available
– bring in your broken parts and we will help you replace them.
Lock Lubricants – Graphite, Tri-flow
Padlocks – all sizes, keyed and combination (pre-set, and resettable), keyed alike, keyed to your
house or office key
Door Closers – most common models in stock
(Norton, LCN, Jackson)
Garage Doors
Genie, Liftmaster, Overhead Door, Wayne Dalton, Martin Door – Transmitters (Remotes) and parts for sale in shop
Garage door springs – If you bring in your broken spring, we
will sell you the proper replacement. You may need to leave
it with us over night.
Chain and Cable fluid and Lubriplate in stock
Key switch locks, Vault releases, T-handle locks in stock
Some technical support available
Safes
We stock safes of various fire and burglary ratings from Inkas, Amsec, Gardall, Adesco, and Original.
Some limited stock of used safes for sale
Delivery, Maintenance and Installation services offered by our staff (NOT subcontracted!)
In the Field
All of our technicians are licensed locksmiths through the State of California Bureau of Security and Investigative Services. We have a drug-free workplace policy in effect, including drug testing of employees. We respect the privacy of all of our customers, and are we are always discreet.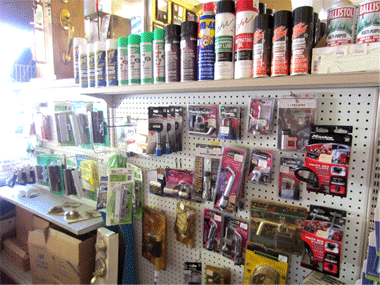 Commercial and Residential Lock
Rekeys (Definition: We take apart your locks and change the
inside so that the old keys will no longer work, and new keys
are issued)
Locksmith
Locks repaired, replaced
Lockouts (Automotive, Home, Office)
Extensive Master Key Systems – Call or email for consultation
High Security Locks (Primus, Sargent Signature, Best,
Corbin/Russwin, Medeco, Assa, Kaba)
Antique and contemporary mortise lock repairs, Baldwin
mortise lock repairs
Anderson and other French door repairs/service
Door Closer installation and repair (Norton, LCN, Jackson,
Dorma, Kawneer, Rixson and others)
Weather seal installation
Door adjustments
Exit Device/Panic Hardware repairs (Von-Duprin, Adams-Rite,
Dorma, Kawneer, Sargent, Yale and others)
Electrified hardware installation (Certified to drill raceway in
fire rated doors – see certifications
Electrified locks, electrified strikes, electrified hinges installed,
repaired, replaced
ADA automatic door openers installed and repaired
Fire door service and repairs
Drop down fire door testing, service, repairs
Safe openings (see certifications)
Safe maintenance and service
Safe moves (Capability of up to 10,000 lb. – NEVER
subcontracted)
GSA inspections and PMIs (see certifications)
Rolling gate operator installations and repairs
Commercial roll-up doors, curtain doors – serviced,
repaired and replaced
Loop detectors installed, repaired, replaced
Safe Buying Guide:
Any purchase which will help protect your valuable belongings over the long term is a great investment.
Locks and Safes such as those found at our shop and showroom are no exception and are among the best available in this category.
Safes are a specialty item and and its best to purchase from a reputable and knowledgeable dealer who can answer all your questions and guide you to the best product for your individual needs.
Construction, Ratings and Levels of Protection are all key factors.